---

No. 4 December 2003

Another Record Breaking Year
In another Record Breaking Year, blessed with superb weather, Lyveden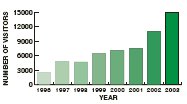 has welcomed over 15,000 visitors throughout 2003. This is more than a six fold increase over the past eight years. Last winter BBC viewers enjoyed the new series Hidden Gardens, featuring Lyveden and our restoration project. Coupled with the excellent weather for visiting outdoor attractions, this publicity has really helped to place Lyveden firmly on the tourism map. For many years, possibly even since the Trust acquired Lyveden back in 1922,
the property has incurred an annual deficit where the running costs always amount to more than the income the property manages to generate. This year that has changed and we are delighted to report a small operating surplus. This is remarkable considering Lyveden was acquired with no endowment to support its work, and four out of five of all Trust properties actually operate at a loss. Our challenge is now the carefully control our costs and try and maintain our sources of income.
Enterprising
Five years ago, we received very little income from National Trust Enterprises. But, new initiatives  have generated over £6000 this year and events have contributed a further £2,500.
An Elizabethan Theme
Marking the 400th anniversary of the death of Queen Elizabeth I,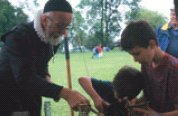 Lyveden provided the ideal venue for an Elizabethan Day in June. A great mix of crafts and entertainment interpreted the period to over a thousand visitors who supported the event, and consumed more than five hundred burgers and hotdogs in the day! Unfortunately,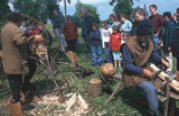 a torrential storm ended the day with a bang, but hopefully not before visitors, both young and old, had enjoyed a fascinating insight into the life and time of the great Elizabethan age.
Visit by Chairman & Director General
Our new Chairman, Sir William Proby and National Trust Director- General Fiona Reynolds, enjoyed an informal visit to Lyveden in June. This was Fiona's first visit to Lyveden on the eve of our Elizabethan Day, providing a great opportunity to demonstrate how we are inspiring support for our properties through creative interpretation. Following on from the visit last year of our new Trust President, HRH Prince of Wales, our work at Lyveden has recently received support from all the highest levels!
Membership
Lyveden has often struggled to recruit significant numbers of new National Trust members, but following new training for our volunteers we are delighted to see membership recruitment surge to over 100 in six months – a fourfold increase in last year! And we are recruiting more over the winter period by promoting gift membership as the ideal Christmas present when we appear at the local Farmer's Market.
Growing Support
Our thanks go to all the volunteers that have helped at Lyveden this year. From local school children to our regular volunteers greeting visitors at the property, all have contributed fantastic support and commitment.
Barclaycard asked if they could help at Lyveden, so in July a team from the company undertook a day of conservation work. In return they generously gave Lyveden a donation of £500!
We are also extremely grateful for the continued support of our local National Trust Association. Earlier in the year they received a legacy from the estate of Miss Mabel Cotton, one of their valued members. The Association chose to donate the proceeds to Lyveden to help support or future work, particularly in improving visitor facilities.
Managing our Countryside
Over one hundred trees were planted in our Elizabethan orchard last winter with the remaining seventy old fruit varieties due to be planted this winter. The incredibly dry weather has required regular watering of the orchard trees, and summer conditions may delay the supply of the remaining trees from the nursery. We would like to thank everybody who has donated towards this project.
During this winter we will be planting over 200 metres of new hedgerow as well as nearly 300 native trees. This work forms part of our restoration of the wider landscape which surrounds Lyveden. Work which was highlighted in the Department of the Environment's Countryside Stewardship newsletter earlier this year.
Refreshing Interpretation
Over the winter we will be renewing our interpretation in the visitor room, focusing on the ongoing restoration project at Lyveden. New self standing information boards in the New Bield will further develop the visitor's understanding of the property.
Our largest interpretation project is our new, full colour guidebook, which is currently at its
draft stage, but planned for publication by February in time for the new season. When the current guidebook was written there was no garden at Lyveden for the public to discover and very little research had been undertaken. The new guide will contain superb illustrations, photographs and text allowing visitors to learn much more about Lyveden's fascinating past and exciting future.
Shakespeare
August saw the first major outdoor production staged at Lyveden. Mad Dog's and Englishman ended their UK tour of Henry V with a performance against the backdrop of the New Bield. A perfect setting and a fantastic audience, but unfortunately we were again caught out by the weather. Men in suits of armour waving swords on the top of a hill are not a good combination when a thunder storm is approaching! Sadly we had to end the play before the final scene, but hopefully the understanding audience will be back for more in June.
Improved Access
An opportunity arose when Leicestershire Country Council were resurfacing the nearby highway to finally provide a greatly improved track surface leading to the property.
While we permit less able visitors to park at the top of the hill we still encourage our visitors to approach the property on foot. We are more than aware of the limited roadside parking and the congestion this can cause at busy times. We are working hard to provide a solution for better parking, yet preserving the historic setting of Lyveden and protecting the underlying archaeology of this most special site.
2004 Diary Dates
Please check times and dates of events by contacting the property on 01832 205358 or by visiting our website at www.nationaltrust.org.uk/lyveden
10/11 April. Easter Trail Weekend. 11am – 4pm.
15/16 May. Falconry Weekend. 11am – 4pm. Try your hand at this majestic Elizabethan pursuit.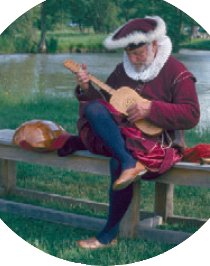 30 May. Elizabethan Pastimes 11am – 4.30pm. Find out about Elizabethan gardening, try wood turning on a pole lathe and traditional willow making.
5/6 June. Elizabethan Music 11am – 4.30pm. The superb and talented duo Hautbois will perform and
teach the musical instruments of the late Tudor period
26 June. New Bield Challenge Back by popular demand. Book your team in early for the daytime Challenge, or just enjoy the live music and hog roast in the evening. Evening tickets £10.
27 June. William Shakespeare's As You Like It. Mad Dogs and Englishmen are back with this superb
comedy drama. Advance tickets £7.50.
17/18 July 11-5pm. The Tudor Travellers. Fantastic demonstration of the crafts of the Elizabethan age.
14/15 August 11-5pm. The Elizabethan Peddler and Cook. A favourite at the Elizabethan Day, Jack Greene demonstrates his alchemy and Jenny Templeton provides period cookery demonstrations.
29 August. Deanery Service. Songs of Praise in the beautiful open air setting of Lyveden.
31 October 2 – 7pm. Halloween and the Elizabethan Surgeon. Not for the faint hearted!